History of Paths to Understanding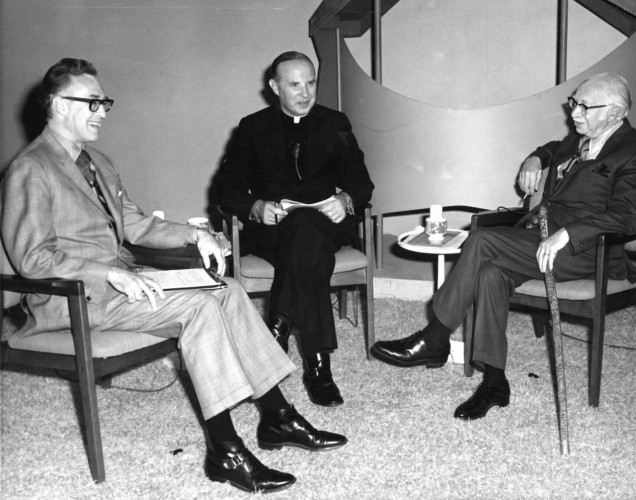 Paths to Understanding's roots go back to 1960 when Rabbi Raphael Levine recognized the similarities between the antisemitism he experienced and the anti-Catholic sentiment that grew during John F. Kennedy's presidential campaign.
Levine wanted to encourage people to build relationships across faith traditions and to counter dehumanization. Working with William Warren from KOMO TV, Rabbi Levine, together with Catholic priest Father William Treacy and Lutheran pastor Oscar Rollander, began the groundbreaking interfaith TV show called Challenge in 1960. Rabbi Levine and Father Treacy went on to found Camp Brotherhood, an interfaith camp and retreat center. The Camp brought over 250,000 people together into interfaith experience until it was sold in 2016.
Rabbi Levine and Father Treacy's courage, compassion and hope is the foundation that Paths to Understanding is built upon.
You can read more about those values in their own words by ordering their books available on Kindle
In 2019, the Treacy Levine Center merged with Neighbors in Faith, founded by our Executive Director, Terry Kyllo, in 2015 in response to the rise of anti-Muslim bigotry. Rebranded Paths to Understanding, our organization continues to evolve in relationship with other multi-faith movements in Washington State, our country, and the world.
We partner with many other multi-faith organizations such as the Faith Action Network, The Church Council of Greater Seattle, Kids 4 Peace, The Shoulder to Shoulder Campaign, Holden Village, the School of Theology and Ministry at Seattle University, and local multi-faith partnerships across Washington State
---
Inspired by these people and these movements, we continue to live out a vision of all peoples of the Earth partnering for the common good.
---
To accomplish this, we partner with people across religious, cultural, ethnic and social lines in multi-faith peacemaking to bridge bias and build unity in all the human family.